Last October, we took the direction of Beaujolais for the photo shoot from our Spring Summer collection. It is in a sublime building located in the midst of the vines that we gave an appointment to our family of influencers to make the pictures of our future collection.
9 a.m. Audrey arrives accompanied by her companion Sébastien and their daughter Lana. After a coffee shared with the white square teams, the mother and influencer is invited to pose with our Cotton gauze bed cotton gauze. William, the photographer, takes advantage of the soft light in the morning to make the first shots of the day.
11 a.m.. It's Lana's turn to go on the scene. Dressed in Raphia bathrobe, the young budding model amuses the gallery with her poses that is both adorable and funny. During this time, our communication manager observes the result on the computer to make sure that the product is perfectly highlighted. It's in the box !
2 p.m.. After the lunch break, the whole little family is in the master bedroom to immortalize our ABYSSE COLLECTION. Loved under the duvet, Audrey, Sébastien and Lana lend themselves to the game, until you forget the camera. William takes the opportunity to immortalize this nice moment of family complicity.
5 p.m.. While Nicolas is busy behind the scenes to touch up the photos, everyone concentrates to succeed in the last shots of the day. Audrey, Sébastien and Lana have the sole directive to have fun! Then begins a happy pillow battle in our Capoeira bed set. And this is how this shooting ends: in laughter and good humor!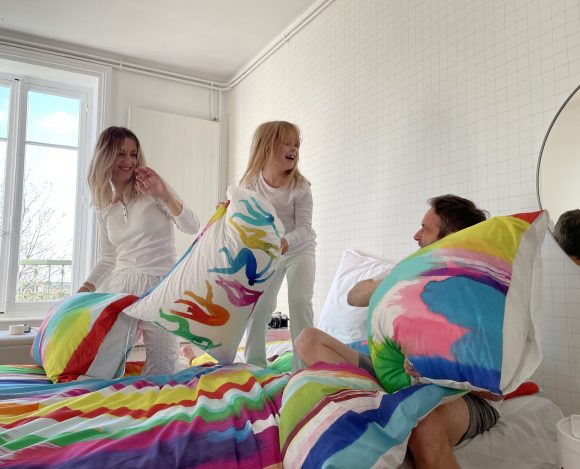 Discover the video of the making-of of our Spring Summer 2022 catalog: